While you might need only one reason to book a summer vacation this year, Hotel Valley Ho, Mountain Shadows Resort and Rise Uptown Hotel are giving you three distinctively different experiences to choose from, making the decision to take a staycation, or staycations, easier than ever. The resorts are offering a fantastic staycation deal to entice you to book, stay, play and repeat all summer long – at whichever property appeals to your mood.
No matter the destination you choose – Hotel Valley Ho in Old Town Scottsdale, Mountain Shadows Resort in Paradise Valley or Rise Uptown Hotel in Central Phoenix – this summer staycation deal makes it possible to enjoy a unique luxury getaway in your own backyard for the best rates available all summer long. Grab your beloved, your besties or your bros: This deal for summer stays is only available to book from May 20 to May 23.
"Our returning guests know that every summer we conduct our annual summer stay sale that offers the best deals for summer stays," Jesse Thompson – Area Director, Sales and Marketing – Benchmark Hotels and Resorts said. "And when the sale is over, the deals will never be as good – so reserve your summer stay during the annual summer sale and rest assured, you've secured the best deal."
This year, the deal has grown to offer three distinctive choices, and the offer is super simple: save 33 percent off any summer stay at any of the three properties. And when you reserve online, you receive even more to help celebrate summer with added inclusions like complimentary drink vouchers, upgraded internet connectivity, priority upgrades upon arrival if available – and other stay enhancements.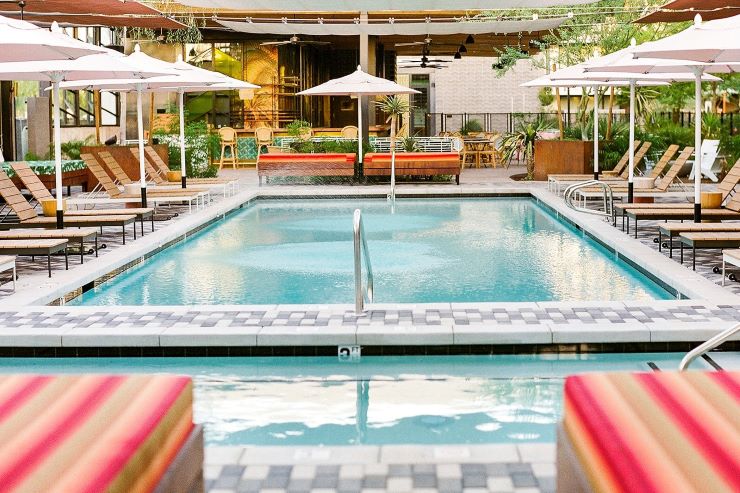 "This summer, we know many people want to get back to travel and normality, so we are making it affordable and easy to stay," says Ronen Aviram, vice president and general manager of Hotel Valley Ho. "Plus, we offer some really fun packages to relax at the spa, get down at the pool or simply enjoy the perfect meal – you decide."
Be sure to book between May 20 and May 23 to take advantage of these special annual summer offers.
To learn more about these iconic Valley of the Sun properties, visit hotelvalleyho.com, mountainshadows.com, and riseuptownhotel.com.