JW Marriott Phoenix Desert Ridge Resort & Spa completed the first phase of its $80 million resort transformation, featuring a refreshed lobby, redesigned guest rooms and a new signature dining destination. The recent renovation coincides with the desert escape's 20th anniversary, and in honor of the milestone, the resort is offering a new opulent hotel package.
A refreshed lobby sets the scene at JW Marriott Phoenix Desert Ridge Resort & Spa with an elevated, modern design that is both chic and comforting. The space offers a soft color palette, with tones found in the night sky like midnight blue and amethyst hues. In addition, renovated lobby is home to a new front desk, lounge area and calming light fixtures.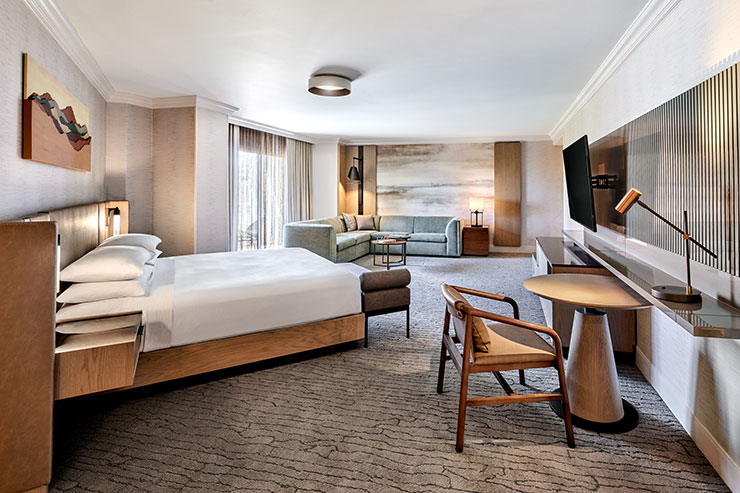 All 869 guest rooms and 81 suites have been carefully renewed with guests' comfort in mind. The rooms, designed by Looney & Associates, offer private patios with floor-to-ceiling windows, allowing an abundance of natural light to flow through. A select amount of rooms feature secluded fire pits on the terraces, perfect for cooler nights. Inspired by the surrounding desert scape, each space offers natural wood elements, with pottery pieces and soft earth tones. In addition to the rejuvenated areas, the resort now offers a wellness suite add-on, home to a collection of Peloton bikes, yoga supplies and meditation tools readily available to guests. 
Earlier this year, Tía Carmen opened its doors at the resort. The eatery, led by acclaimed Executive Chef Angelo Sosa, offers contemporary Southwestern fare utilizing a wood-fired grill. The spot was inspired by Chef Sosa's aunt, Carmen, a woman of passion, love and humility–– the same elements you will find within the menu and Tía Carmen's walls. The space celebrates "Earth meets Art," offering a simplistic design with a warm and organic palette. Tía Carmen is not the only dining destination found on the resort's grounds; a new eatery is slated to make its debut in 2023, in addition to a new pool complex. 
As a part of its second phase in 2023, JW Marriott Phoenix Desert Ridge Resort & Spa anticipates opening a reimagined pool experience featuring a five-story high waterslide, the Boomerango; an active family splash zone for the little ones; an extended lazy river; new cabanas; food truck stops; and an adults-only area with an infinity pool and jacuzzi. 
The resort's new transformation was unveiled just in time to celebrate its 20th anniversary; the resort opened its doors in November 2002. In honor of the celebration, guests can expect to book a grand package for $20,000, featuring a truly luxurious experience featuring four nights in the presidential suite; access to the Griffin Club daily; a private cooking class and dinner at Tia Carmen with Chef Sosa; a sunrise hot air balloon ride with a Champagne breakfast; and so much more to indulge in. 
To learn more about JW Marriott Phoenix Desert Ridge Resort & Spa, visit jwdesertridge.com.