A sparkling oasis in the desert, The Phoenician Scottsdale resort features a multi-tiered pool complex that offers something for everyone. Whether you're a hotel guest on a summer staycation or a local visiting with a cabana poolside pass, The Phoenician is the perfect place to cool off this season in Arizona.
Providing views of both the resort and Camelback Mountain, The Phoenician's expansive pool setting features cabanas for rent, a Kid's Zone and poolside dining at Kalio Kabobery for an afternoon of relaxation and fun.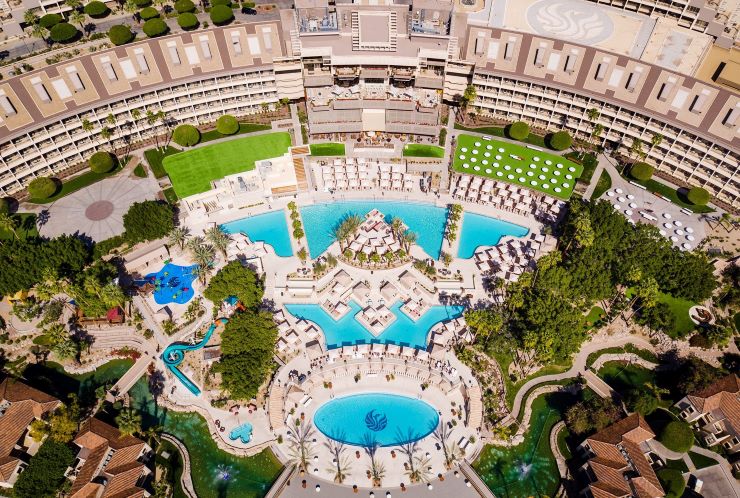 The upper level is comprised of three individual pools with the outer two shaped like grand pianos. There is a spacious, family-friendly area that is perfect for children's aquatic play, including games such as Marco Polo or Coin Dive.
The Phoenician's oval-shaped Mother of Pearl pool on the lowest tier provides a more tranquil area for swimming. It was one of the most expensive pools in the country when it was built in the late 80's, and still features its signature hand-laid mother of pearl tile.
Separate from these pools is The Phoenician's Kids Zone which features a tree house complete with a swaying bridge, sails and a helm for children to explore, as well as a splash pad with spray guns, falling buckets of water and shooting water spouts. The area also includes a 197-ft. twisting water slide for guests 42 inches and taller. Both kids and adults alike will be entertained for hours.
After working up an appetite lounging or playing at the pools, you can refuel at Kalio Kabobery. This Mediterranean-inspired venue features an array of frozen beverages for both adults and kids, as well as a full-service bar, sandwiches and salads, ice cream bars, and more.
For the first time in the history of The Phoenician Scottsdale resort, locals can purchase cabana poolside passes this summer without staying at the resort – although we highly recommend booking a summer staycation if you can!
The cabana poolside pass at The Phoenician includes full-day access to a signature cabana, featuring chaise lounges, an interior sofa, an overhead fan, a refrigerator, sunscreen, flat-screen TV, complimentary water and COCO5 sports drink, a storage credenza, a choice of Phoenician amenity and a dedicated service member. Poolside passes are available to the public Monday to Thursday, June 5 to Sept. 5, 2023.
Ensure your cabana, chaise lounge or daybed in a prime location is reserved and waiting for your arrival by contacting 480.423.2572.
Get more information about the pools at The Phoenician Scottsdale at thephoenician.com.
HOURS
Food: Daily, 10:30 a.m. to 5 p.m.
Bar: Sunday to Thursday, 10:30 a.m. to 5 p.m.; Friday and Saturday, 10:30 a.m. to 6 p.m.
Waterslide: Monday to Thursday, 9 a.m. to 5 p.m.; Friday to Sunday, 8:30 a.m. to 6 p.m.
6000 E. Camelback Rd.
Scottsdale, AZ USA 85251