With the 2022 Waste Management Phoenix Open just around the corner (taking place Feb. 7 to Feb. 13 in Scottsdale), it's not too early to start planning your head-to-toe looks for the highly anticipated annual event. As seen in these photos shot at the Mountain Shadows Resort golf course, the upcoming "Greatest Show on Grass" will be just as much about coordinating sets and seersucker as it is birdies and bogeys.
Pictured looks were put together by Luxe & City with stylist Hannah Abrigg. Photography by Matsemela Zazu Moloi of Installennial.
Phoenix Open Dressy Looks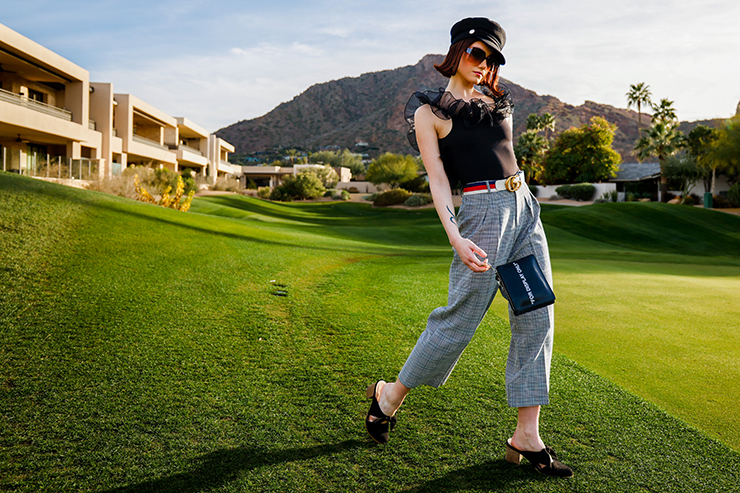 Wide-leg pants are a great option for a dressier look and to pay homage to classic men's golf wear, while simultaneously giving your Phoenix Open outfit a streetwear edge. Add a cabby hat and geometric sunglasses for a fun Euro flair that will also serve the function of keeping the sun out of your eyes.
A wristlet with a strap is the perfect accessory. Casually slip your bag over your wrist, and you can easily carry your phone to snap the perfect IG pic and have a free hand for a glass of bubbly.
If you are planning on arriving at the Open early in the morning, coordinating sets are a must. During the chilly morning weather, throw on a matching blazer or cardigan. As the Arizona sun warms you up, you can easily drape your jacket over your shoulders and show off a very golf-pro look for the rest of the day.
Mini purses are a huge trend this year, which is perfect for the Phoenix Open. Because of bag restrictions, a micro purse, crossbody or wristlet is a stylish solution, offering just enough space for your lip gloss, ID and credit card.
Being on grass, wearing wedge heels is a must for this event. Make sure your shoes are comfortable enough to wear for the whole day and that your heels are chunky enough to keep you from sinking into the green. Layering a little lace ankle sock with your wedges adds extra flair–and an bonus layer of comfort to prevent getting sad toes by the end of the day.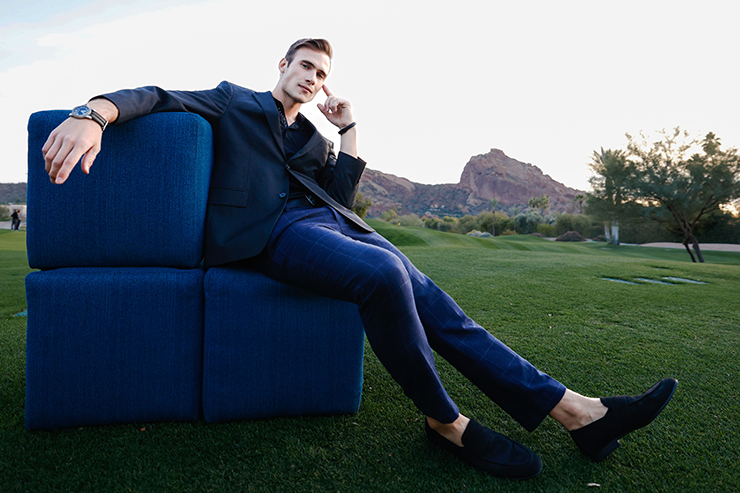 For men, add a blazer to a polo shirt and slacks for a look that is a little dressier. Don't be afraid to mix patterns, textures and neutral colors to give your outfit extra visual interest.
Phoenix Open Casual Looks
Light jumpsuits, rompers and dresses offer a more casual look at the Phoenix Open. Dress these looks up a bit with a wedge or a boot, or dress it down with a flat shoe or sneaker. Striking the balance between comfort and fashion is key to making it through a day at the Phoenix Open. Don't forget to layer with a lightweight jacket or cardigan to keep you warm in the shade.
Seersucker shorts are a classic men's look for any golf outing. Pair it with some sneakers and a sweater vest for a classy-meets-casual look. Pro tip: black and white is definitely the in look this season when it comes to menswear.
Hair & Makeup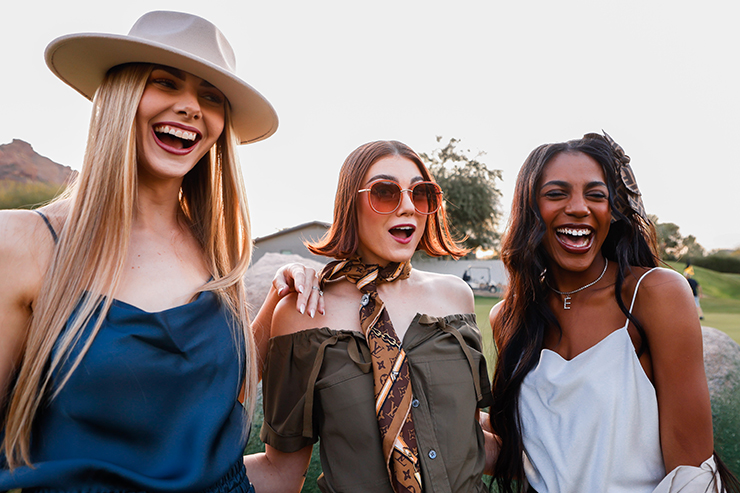 A day at the Phoenix Open can often be a long one. To make sure your hair and makeup are set to last, here are some tips from Hairstylist Vincent Rodriguez and Makeup Artist Carolyn Castro.
Rodriguez shares that stylish sleek hairstyles are ideal for women to be both fashionable and long-lasting. Pair with a hat to make it even more manageable while keeping the sun out of your eyes.
Castro highly recommends using a makeup-setting spray, like Urban Decay's All Nighter Long-Lasting Makeup Setting Spray, to ensure your makeup lasts all day. Castro uses this prior, during and after makeup application to seal the makeup onto the skin.
Location: @mountainshadowsaz
Photographer: @allmightyza
Wardrobe Stylist: @slayybrigg
Stylist Assistant: @inversionbyvirgo
Featuring: @being_dapper @houseofdonaldson @PXG
Hair: @vrhairartist
Makeup: @petrifiedpeach_
Creative Agency: @luxeandcity
Models:
@samantha_grothusen_az
@savdanseuse
@eri.ka_rose
@davidross_official