Kierland Fine Art & Wine Festival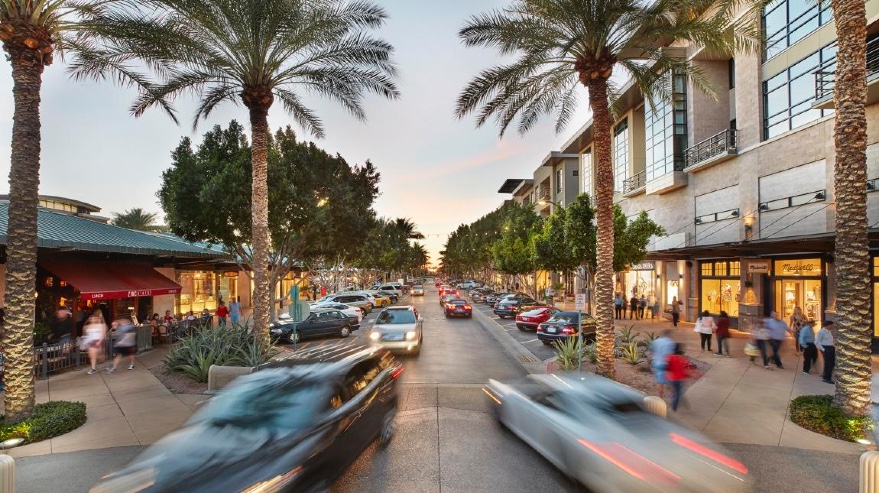 Kierland Fine Art & Wine Festival will be held Saturday, Oct. 29, and Sunday, Oct. 30, at the popular Scottsdale shopping center. The art festival takes place from 10 a.m. to 5 p.m. on both days, while guests can enjoy a wine garden from 11 a.m. to 8:30 p.m. on Saturday and 11 a.m. to 5 p.m. on Sunday.
More than 100 artists from around the world will create a one-of-a-kind outdoor gallery on the shopping center's Main Street, with a collection of original art representing various cultures and a range of subject matter and media, including still life, landscape, portraiture, nature, and abstract. Original works will include bronze, clay, glass, metal, and wood sculptures. Other works include paintings on canvas, mixed media, fiber art, hand-blown glass, handcrafted jewelry, photography and more. The artists are being juried by a group of professionals in the industry whose focus is creativity, quality, presentation, and uniqueness.
Those 21 and older will enjoy a Wine Garden, where they can taste wines from 15 of Arizona's best wineries while strolling along Main Street, listening to upbeat sounds of live music. Wilcox Wine Country, a region in the southeastern part of the state associated with Arizona Farm Wineries and Vineyards, is organizing the wine aspect of the event. The Willcox area leads Arizona's wine grape production, growing 74% of the state's wine grapes. The region is also home to the most highly rated Arizona wines by Wine Spectator magazine.
On Saturday, Oct. 29, from 5 p.m. to 7:30 p.m., David Ryan Harris will hold a live outdoor concert at the event. The singer, songwriter, and multi-instrumentalist has produced, written and performed with the likes of John Mayer, Dave Matthews, India.Arie, Cassandra Wilson and Guy Sebastian – with whom he co-wrote the RIAA platinum-certified "Battle Scars." David's independently released album, "Lightyears," features guest appearances from John Mayer, India.Arie, and Nikka Costa.
Additionally, Colton Avery, a singer-songwriter who hails from Phoenix will also perform as the opening act. Colton was discovered by The Script, who took him to London, where he honed his skills as an artist, fusing a UK singer-songwriter sound with American pop sensibilities. He's performed at popular venues such as The Wiltern, Croke Park and the O2 before returning to the United States to focus on songwriting.
Various delectables will be available from a selection of gourmet cottage vendors, local confectionaries, and trendy food concessions to complement the festival experience. The shopping center also boasts 12 chef-driven restaurants, outdoor cafes, and upscale retail shops.
The Art Festival offers free admission and is open to all ages of the public.Those 21 and older can purchase a ticket for $30 to $35 to enter the Wine Garden. The Wine Garden ticket price includes a commemorative wine glass and 10 tasting tickets. Proceeds from Wine Garden ticket sales will benefit Horse's Help, a Phoenix-based nonprofit that serves the special needs and at-risk community by using horses and people to improve quality of life.
To purchase Wine Garden tickets, visit: www.eventbrite.com.
Related Events