Cactus League spring training games are a popular event in Arizona, drawing thousands of fans from around the country. With more and more people finding out they have dietary restrictions, it's important to have some gluten-friendly options at Cactus League games. Luckily, some of the ballparks have stepped up to the plate by offering a variety of gluten-free options for fans. Here is our guide to gluten-free dining at spring training games.
(For spring training dining and deals, click here.)
Scottsdale
The spring home of the Arizona Diamondbacks and Colorado Rockies has a few specialty items for fans seeking gluten-free dining at spring training games. Island Noodle offers a gluten-free wok-fired stir fry served over a Hawaiian slaw instead of noodles. Rusty Taco serves chicken or steak fajitas and achiote pork tacos that are gluten free if you choose the corn tortilla. Additionally, snack items like popcorn, nachos, Maui Wowi smoothies, Cactus Corn roasted almonds and strawberry kabobs are also gluten free at Salt River Fields.
Surprise
You don't need to worry about gluten-free dining at spring training games at Kansas City Royals and Texas Rangers games because Surprise Stadium allows fans to bring food in. The food must be presented in a one-gallon clear Ziploc/freezer bag.
Here's what is allowed when it comes to beverages:
Up to two 1-liter factory-sealed water bottles per guest.
Hydroflask and sports bottles (up to 1 liter) are allowed, with the exception of glass containers. For convenience, there are water fountains available to fill up your bottles.
Single-serving juice boxes, baby food and formula will be permitted. No beverages, other than water or boxed juices, will be allowed.
Outside alcoholic beverages (as well as non-alcoholic beer and wine) are not allowed in the park, regardless of container.
No coolers, ice chests or glass containers.
All items brought into the stadium must fit under a stadium seat and are subjected to search and inspection.
Tempe
Los Angeles Angels fans can bring food and drinks into Tempe Diablo Stadium:
Food in a clear, one-gallon size bag.
Food must resemble individual portions, not bulk, quantities.
Factory-sealed, clear plastic bottles of unfrozen water/sports drinks (1 liter per person), juice boxes and juice pouches.
Fruits must be sliced prior to entry.
Factory-sealed milk containers and baby formula for an accompanying child.
Food from outside restaurants and fast food franchises, or that does not meet the guidelines, is not allowed.
There's also the Fresh & Jive Grill Tent with gluten-free veggie tater tots and a berry-pecan salad.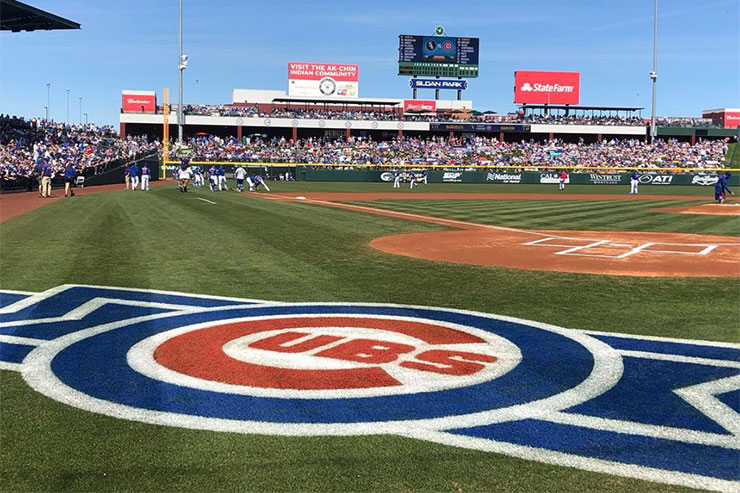 Mesa
Aside from the general concourse concessions at a Chicago Cubs game, various food trucks will rotate during the season at Sloan Park, some offering gluten-free dining at spring training games. The food trucks are listed here. Additionally, a personal amount of food can be brought into the ballpark in a small, disposable bag.
Goodyear
A baseball game just isn't complete without a hot dog and luckily fans can enjoy the gluten-free version at Cleveland Guardians and Cincinnati Reds games. Gluten-free hamburger and hot dog buns are available upon request at Queen City Grill, 1901 Charter Grill, Hangar 46 and Burgertopia. Taco Central's chicken tinga tacos made with corn tortillas are also gluten free. Fans can also bring in their own food to Goodyear Ballpark, as long as it fits in a quart-sized sealed bag.
Glendale
Chicago White Sox or Los Angeles Dodgers fans can enjoy soft serve ice cream, kettle corn and Lay's potato chips at Camelback Ranch-Glendale stadium.
Other Ballparks
As a standard rule of thumb: popcorn, nachos with corn chips and nuts are typically the easiest gluten-free options to find at a ballpark. But as always, it is recommended to contact vendors directly to discuss dietary needs and preparation. Now, play ball!
Ali Dugaw, a k a the Gluten Free Travel Girl, is always on the hunt for the best gluten-free spots. Follow her gluten-free adventures on Instagram and Facebook.