The arrival of fall in Arizona looks a little different than in other parts of the country, but that doesn't stop locals from embracing the shifting season and enjoying the (eventual) onset of autumn. "As we start to shift away from the summer heat in metro Phoenix, if you're like me, you're definitely ready to start thinking about fall, the holidays coming up and getting back outdoors," says Lisa Urias, director of the Arizona Office of Tourism. "These events are perfect for a fun get-together with family and friends."
To kickstart the return to the state's amazing outdoor spaces and fall-themed fun, Arizona Office of Tourism has rounded up a few great Arizona fall festivals to help residents and visitors enjoy the cooling weather. Whether you're looking for classic cowboy boots, antique furniture, garden art, vintage collectibles, amazing eats, Arizona wine or more, these events are ready to deliver!
Sept. 15 to Sept. 17: Junk in the Trunk Vintage Market
Westworld of Scottsdale
What started as a small backyard market and creative outlet for founders Lindsey Holt and Coley Arnold has grown to offer more than 100,000 square feet of vintage and handmade treasures during the past five years. Junk in the Trunk Vintage Market guests are sure to find a sprawling selection from vendors from across the state and across the country. Live music and great local food trucks round out the experience for shoppers over three days in Scottsdale.
Cost: General admission tickets are $8 in advance of $10 at the doors; special VIP ticketed events take place Sept. 15 and Sept. 16.
For more information: junkinthetrunkvintagemarket.com.
Sept. 16 and Sept. 17: Prescott Indian Art Market
Sharlot Hall Museum, Prescott
Prescott's Sharlot Hall Museum invites guests to experience American Indian culture in a unique way through its Prescott Indian Art Market, which features indigenous art, music, performances, demonstrations and more. More than 100 top native artists present artwork in this juried show, showcasing art media ranging from oil painting and beadwork to pottery and weaving. This year's featured artist is jeweler Patrick Smith of the Navajo Nation.
Cost: $15; free for members.
For more information: www.sharlothallmuseum.org.
Sept. 23: FashFilmFete
Phoenix Art Museum, Phoenix
FashFilmFete is a premiere film festival providing a platform for historically underrepresented voices in film and television. Its second-annual event returns to Phoenix Art Museum on Saturday, Sept. 23, at 11 a.m. The day-long festival will honors fashion storytelling and feature presentations and films where fashion is a pivotal component of the storytelling and diverse filmmakers are celebrated. The 2023 honorees are Ruth E. Carter, receiving the 2023 Career Achievement in Costume Design for Film, and Patricia Field, receiving the 2023 Career Achievement in Costume Design for Television. A virtual festival will take place Sept. 24 to Oct. 8 on the Filmocracy platform.
Cost: $20 to $75.
For more information: phxart.org.
Sept. 23 and Sept. 24: Sedona Winefest
Sedona Posse Grounds Park, Sedona
Sedona Winefest returns for its 14th annual celebration at the Sedona Posse Grounds Park. The two-day, nationally recognized wine festival will feature 24 award-winning local wineries, food trucks, artisan vendors and music featuring DJ Pablonious Funk and Moon Tsunami (Saturday) and The Naughty Bits (Sunday). Plus, for the first time, the event will feature the goods from local breweries and distilleries.
Cost: $35 (early bird) or $45 at the door. $10 general admission for non-drinkers. Free admission for children under 18.
For more information: sedonawinefest.com.
Oct. 7 and Oct. 8: 32nd Annual Sedona Arts Festival
Sedona Red Rock High School
The 32nd Annual Sedona Arts Festival hosts a diverse lineup of more than 100 juried artists from across the country. This widely adored fine arts festival will also feature live music, raffle prizes, food, and a beer and wine garden–all with Sedona's breathtaking red rocks in the background. The event's annual Art Raffle supports arts education in Sedona and the greater Verde Valley.
Cost: $15 (admission covers both days of the event); children 12 and under are free when accompanied by a paying adult.
For more information: www.sedonaartsfestival.org.
Oct. 21 and Oct. 22: Willcox Wine Country Fall Festival
Railroad Park, Willcox
The Cochise Graham Wine Council invites guests to enjoy the Willcox area, the state's premier wine-growing region in far southeastern Arizona. The late-October Arizona fall festival features 16 of Arizona's fabulous wineries along with food trucks, vintage vendors and live entertainment. For visitors looking to extend their stays, the area offers 14 tasting rooms, tours, locally grown and produced wines. The Willcox Wine Country Festival has been rated by Fodor's Travel as one of the top-10 wine festivals in North America.
For more information: www.visittucson.org.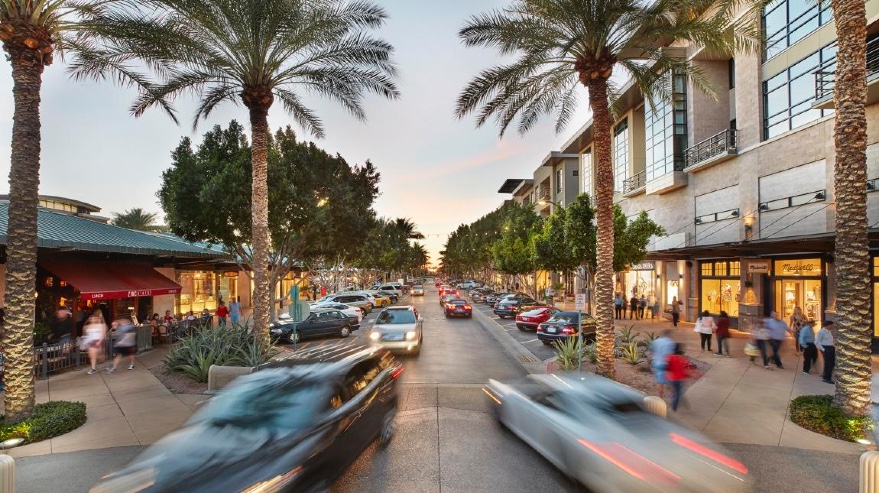 Oct. 28 and Oct. 29: Kierland Fine Art & Wine Festival
Kierland Commons, Scottsdale
This late fall festival expertly combines attractions for both art enthusiasts and wine connoisseurs. Kierland Commons' Main Street is transformed into a one-of-a-kind art gallery displaying original, handmade works created by more than 100 artists from around the world. In addition to the art, guests 21 and over can enjoy Arizona-produced vino in the Wine Garden from a consortium of Southeast Arizona-based winemakers.
Cost: $20 to $35.
For more information: www.kierlandcommons.com/ArtWineFestival.
Nov. 4 and Nov. 5: La Encantada Fine Art Festival
La Encantada, Tucson
From metalwork to locally-designed fashion, the open-air La Encantada Fine Art Festival offers visitors and community members an opportunity to support artists and fine art crafters while strolling the lush and ever-blooming garden walkways of the outdoor La Encantada Shopping Center. The curated arts and crafts market celebrates the ingenuity of independently owned, small businesses and artists who channel their passions into creating one-of-a-kind handcrafted products. Attendees will experience fall-themed interactive art stations throughout the festival, with hands-on demonstrations, grab-and-go art activities and more.
Cost: Free admission.
For more information: www.saaca.org.
Nov. 4 and Nov. 5: 53rd Annual Litchfield Park Festival of Arts
Litchfield Park
This dog-friendly, award-winning Arizona fall festival features more than 250 fine artists and craftsmen from around the state and the country, dozens of tasty eateries and a variety of sidewalk cafes and pubs. It also boasts Arizona's largest festival wine garden, offering an impressive selection of Arizona wineries, breweries and distilleries. The wine garden is set amidst shaded pines and cool green grass, encouraging visitors to kick off their shoes, relax, sip and enjoy continuous musical entertainment from the nearby main stage.
Cost: Free admission.
For more information: www.litchfieldpark.gov.
Nov. 10 to Nov. 12: Fall Fountain Festival of Fine Arts & Crafts
Fountain Hills
The Fountain Hills Festival of Arts and Crafts features nearly 500 artists, artisans and gourmet food provisioners. Visitors flock to this Arizona fall festival to do their holiday shopping, collect unique holiday-themed ornaments and purchase art while enjoying great food options. Live entertainment and shaded seating areas round this out as a great way to spend the day in Fountain Hills.
For more information: fhchamber.com.